Join this walk and learn the back story of how Oswald Mosley and his fascist black shirts were routed at the Battle of Cable Street in 1936.
Anti-Fascist Footprints | Sunday 3 March | 2.30pm – 5pm
Guided walk through 1930s London east end
From Gardiners Corner to Cable Street
Tour guide: David Rosenberg
Author of Battle for the East End and Rebel Footprints
The Battle of Cable Street in October1936 was an iconic moment in London's 20th century history, but this moment has a back-story, and an aftermath which will be revealed.
On this walk you will find out who Oswald Mosley was, why he was so determined to build a popular base in the East End, and what this meant for the large Jewish population that inhabited this area then.
You will learn about how anti-fascists organised to defeat his movement.
Open to all attending the conference: ¡No Pasaran! Confronting the Rise of the Far-Right. Spaces are limited, so please register for this guided tour: email nopasaran@prruk.org
---
Newsreel: Battle of Cable Street 1936
Sir Oslwald Mosley salutes his fascist Blackshirts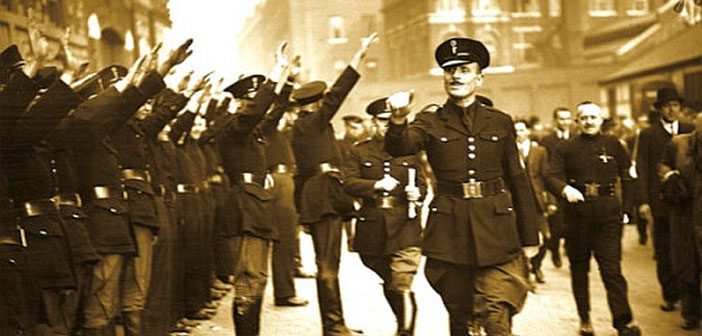 They shall not pass
Fascists routed at Cable Street 1936