Maia Thomas writes: Imagine going through an identity crisis throughout your childhood after experiencing continuous racist abuse in a predominately white rural area. Fast forward 12 years, I never thought I would have organised a Black Lives Matter protest in the same area I struggled to grow up in, speaking my mind and giving others a platform to do the same.
Growing up as a black woman in a predominantly white and rural area has always been challenging. For me Black Lives Matter is not just a movement to join one day and forget about the next. It is not a trend or an idea that should be prominent one day and then hidden the next. I moved to Devon when I was about nine years old. When you first mention Devon to someone often their response is joyful, highlighting the sense of community you feel across the county. In the small towns people often greet each other with a simple smile or 'hello' but imagine seeing this around you but never being included due to the colour of your skin. Being excluded is what I have had to deal with throughout my life, not only in towns but in schools, shops and many other areas.
My school experience was a memory that I have struggled to face at times as this highlights exclusion in an area no one should ever feel excluded, education. Everyone is entitled to an education and I for one was an extremely bright and willing student. However, no matter how bright or passionate I was about my education this was not reflected in how I was treated. Many schools in Devon I attended would constantly question my hair. My natural hair is afro hair, and this was always an issue with schools. They did not want me to have my natural hair out as it 'failed to comply with school rules'. Furthermore, they did not want me to have an alternative style, braids, as there was no space for this in their institutional rules either. The right to education should not be affected by my natural hair style but I was constantly questioned and ridiculed to the point I began changing my identity just to fit in and not be noticed constantly for the 'wrong reasons'. In addition, food was thrown at me on multiple occasions by younger pupils while they shouted, 'feed the African' and 'feed the slave'. The school's response was to simply not allow them on the school trip rather than choosing to educate the pupils as to why their actions were racist and unacceptable.
School was only the beginning of a long journey ahead. Often in my everyday life I am told I am 'outspoken', 'too confident', 'too loud' and often 'aggressive', simply for having an opinion. I am constantly reminded of the fact that 'I am well-spoken for a black woman' or even when organising the Black Lives Matter protest in Exeter that I should 'use my looks' as I am 'pretty for a black girl' so that would get my message across better.
This highlights a fraction of the reason why I chose to organise a Black Lives Matter protest in Exeter as a young black woman. I wanted to create a space for black and other ethnic minority individuals to feel safe and have their voices heard. I struggled to speak out for a large period of my lifetime, and I do not want this to be the case for anyone else. I wanted to create a platform to celebrate black individuals as although I have been through various challenges and suffered from racial abuse, I never let this get in the way of me thriving and achieving. On 6th June I made my vision happen alongside a great team. From the onset education was always my main priority and this was evident throughout the protest. The protest was standstill and educational, around 1000 people attended wanting to hear first-hand experiences of racism occurring throughout Devon as well as be educated about black lives which have been lost to police brutality. The day was extremely emotionally moving as individuals from the crowd continuously queued up wanting the chance to share their stories. This was not just a protest; it was the beginning of a movement.
In the days and weeks following my protest in Exeter they continued to occur both in Exeter, other towns and villages across Devon. The following day was another peaceful event in the city centre followed by a different event on the Wednesday. The demand for equality and justice was not one which was going to go away overnight, we insisted that our voices be heard. Following organising my protest I continued to speak at different protests in areas around Devon including Torbay, Shepton Mallet and Bridgwater as some of the examples. Protests across Devon have been extremely moving and many communities have gathered to support an extremely important movement. The gathering of placards at Torbay coupled with the emotional experiences from black members of the community again highlighted the need for this movement, especially here. Shepton Mallet's tranquil setting accompanied by music, speeches from myself and other members of the community continued the peaceful nature I wished to get my and many other messages across.
Protests are only the beginning, educating the younger generation for the sake of our future generations is key. No individual is born racist, it comes from the home environment or school environment. My message is to educate, both at home and in schools. I want parents to have conversations with their children about different cultures and ethnic minorities. It is necessary to have black history in the curriculum so black children can feel empowered themselves and other races can hear and celebrate our achievements as they do their own. Black individuals should not feel excluded from history when they are a vital part of it. Education is the foundation and a way this movement can change the world for the better.
Although I and many other organisers have faced an uphill struggle with adversity from many across the county this only highlights the need for this movement and how important and powerful our messages are. I have often been asked if putting myself in the spotlight, at the forefront of a movement in a white rural area has left my safety in danger. The answer is yes but it is necessary, now more than ever. If my safety is being compromised by me simply wanting to ask for equality and equal opportunities this just confirms how overdue this movement is. This is just the beginning for BLM Exeter Movement, we cannot stop, and we will not stop, our voices will be heard.
Maia Thomas is a Black Lives Matter Activist who lives in Exeter. She founded Exeter BLM along with Sam Draper. Maia will be speaking at an international discussion on BLM on July 19th. All welcome but please register in advance.
Register in advance for this webinar:
https://us02web.zoom.us/webinar/register/WN_c-NTj913S_m45W0d-Kcxzw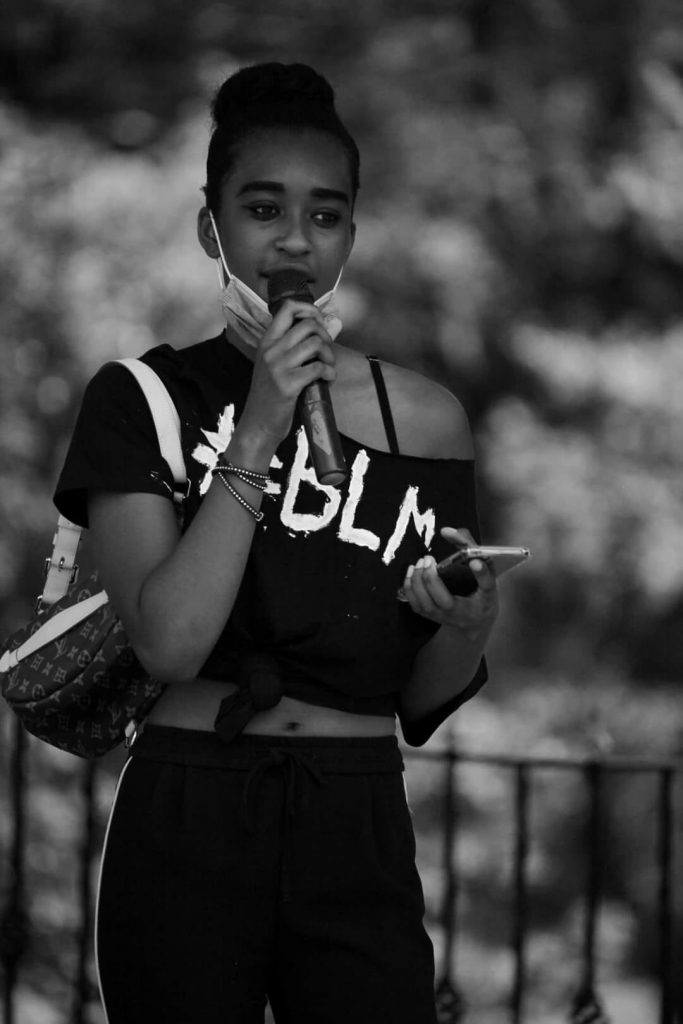 'My name is Maia Thomas, 21 and I live in Exeter, Devon. I moved to Devon when I was 9 years old and have lived in various towns and villages across the county. Transitioning from London to Devon was challenging. I am currently a student at Exeter University studying Politics. I am an Instagram influencer with a platform of nearly 50,000 followers. I have always been passionate about public speaking from a young age and have used my various platforms to address different issues and have my voice heard. Public speaking on BLM is something I am extremely passionate about and this movement has proved how important it is for me to continue doing so.'