Read by Michael Rosen. Video by Joe Rosen. Michael Rosen for Adults video channel
I sometimes fear that
people think that fascism arrives in fancy dress
worn by grotesques and monsters
as played out in endless re-runs of the Nazis.
Fascism arrives as your friend.
It will restore your honour,
make you feel proud,
protect your house,
give you a job,
clean up the neighbourhood,
remind you of how great you once were,
clear out the venal and the corrupt,
remove anything you feel is unlike you…
It doesn't walk in saying,
"Our programme means militias, mass imprisonments, transportations, war and persecution."
The pages of Public Reading Rooms are open for analysis and debate on how we meet the challenge of the rise of the far right. See all articles here… To join the debate, please send contributions to editor@prruk.org.
---
Creeping Fascism: Brexit, Trump, and the Rise of the Far Right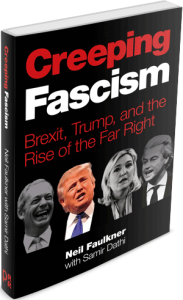 A tide of racism, nationalism, and authoritarianism is sweeping the world. With the world economy hobbled by debt and stagnation, society being torn apart by austerity and inequality, and a political system paralysed by corporate power, support for the Far Right is surging. This new book by Dr Neil Faulkner and Samir Dathi argues that we face the clear and present danger of 'creeping fascism'.