On patrol a ship of shame is down there in the deep, sings Steve Ashley on Ships of Shame (Topic CD Time and Tide).
"A nuclear weapon is a weapon of mass destruction," says Jeremy Corbyn. "I think everyone about to make a decision about what to do with our nuclear weapons should think about the humanitarian effects on wholly innocent people anywhere across this globe if they are ever used."
The UK government plans to spend over over £200 billion upgrading the Trident nuclear weapons of mass destruction. Each of Britain's four submarines can carry up to 16 Trident ballistic nuclear missiles. Each missile is armed with three warheads. Each of those warheads has eight times more destructive power than the US atom bomb that destroyed Hiroshima in 1945.
---
Corbyn and Trident: Labour's Continuing Controversy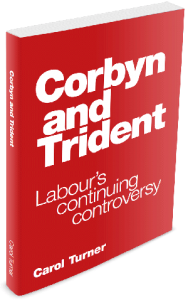 Carol Turner has produced a fascinating account of the turbulent debates within the Labour Party over this most crucial of questions – and the impact of party leader Jeremy Corbyn, who is a vice-president of the Campaign for Nuclear Disarmament.