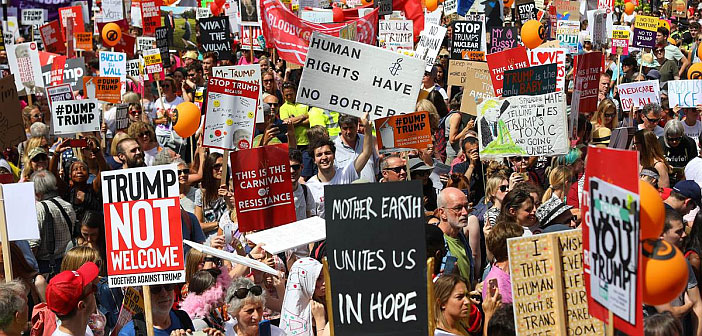 National Demonstration
Together Against Trump
Stop the State Visit
June 4 | 12:00
Central London
Facebook »

Organised by: Together Against Trump »
In early June, Donald Trump is planning to come to the UK. This time, it will be for a full state visit – with processions down the Mall in a golden carriage. But there won't be any cheering crowds.
Last year, a quarter of a million mobilised to say no to Trump's politics of hate and division. This time, we will take to the streets in even bigger numbers – to fight for migrant and refugee rights, for women's rights, against the corporate elites and for the future of our planet.
This demonstration isn't just about Trump as one man. He is a symbol of the new far right, a politics of islamophobia and anti-semitism, of war and conflict, and walls and fences that are growing around the world.