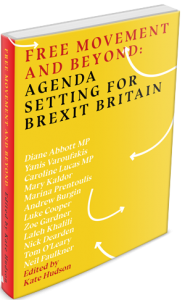 Free Movement and Beyond: Agenda Setting for Brexit Britain is an edited collection that draws together the current thinking of many of Britain's most prominent 'critical Remainers' – those who argued to remain within the European Union while seeking its democratic and progressive transformation.
Seeking to contribute to the policy agenda for the Brexit process, the contributors centrally address the controversial issue of free movement of people, defending it as central to Britain's economic success and as an advance for the working class across Europe; myths that blame migration for economic woes are debunked and the racism that such myths give rise to is condemned.
Policy proposals and principles are outlined for democracy, economics, trade policy, security policy, the environment and workers' rights.
Editor: Kate Hudson | Contributors: Diane Abbott MP, Yanis Varoufakis / Caroline Lucas MP / Mary Kaldor / Marina Prentoulis / Andrew Burgin / Luke Cooper / Zoe Gardner / Laleh Khalili / Nick Dearden / Tom O'Leary / Neil Faulkner