"Clever, well-crafted and heartfelt songs by Steve Ashley, one of our finest songwriters."
W
ith sharp wit and dark humour Steve Ashley takes on the national dailies, the BBC, GCHQ and the welfare-cutting governments that have impoverished the lives of so many. Elsewhere he celebrates the legacy of Tony Benn, the fight to save the NHS and the beauty of the ever-turning seasons that, back in 1974, informed his landmark debut,
Stroll On
. These are big, radical songs with stirring melodies and fine English poetry.
Another Day
is Steve Ashley's tenth album of new songs, and it could well be his finest.
Steve Ashley's Catalogue: Stroll On (Gull) 1974; Speedy Return (Gull) 1975; The Family Album (Woodworm) 1979; Demo Tapes (CND) 1981, More Demo Tapes (PAC) 1985; Mysterious Ways (Line) 1990; The Test of Time (Market Square) 1999; Stroll On Revisited (Market Square) 1999; Everyday Lives (Topic Records) 2001; Live in Concert (Dusk Fire) 2006; Time and Tide (Topic Records) 2007; This Little Game (Market Square) 2015; Another Day (Market Square) 2017.
Steve Ashley is one of British folk's finest singer-songwriters. His songs have been covered by a legion of folk artists, including Fairport Convention, Anne Briggs, Martin Simpson, Wizz Jones, Phil Beer, O'Hooley and Tidow, Maggie Boyle, The Bushwackers, Grace Notes, The Arizonas, Sproatly Smith, The Owl Service and St Agnes Fountain, among many others.
His album career began in 1974 with an award-winning debut – the ground-breaking 'Stroll On' – which to this day, is still regarded as a folk-rock classic. In total, Steve's released ten albums of original songs – consistently melding tradition with innovation and delivering challenging and intelligent English poetry, amid distinctive original melodies. His previous album, 'This Little Game' was included in two lists of The Best Folk Albums of 2015 – in The Telegraph and Folk Radio.
First reviews…
…these aren't clumsy didactic squibs; they're clever, well-crafted and heartfelt songs by one of our finest songwriters. Another Day is the most quietly powerful album I've heard in a long time. * * * * *
Oz Hardwick, R2 (Rock 'n' Reel) January 2017
This, truly, is a fabulous, hypnotic album. * * * * *
Mick Tems, Folk Wales Online, January 2017
Available here: Amazon…
For a signed copy via PayPal, direct from Steve Ashley, email:
[email protected] for Information
Fire and Wine

An Armchair Guide to Steve Ashley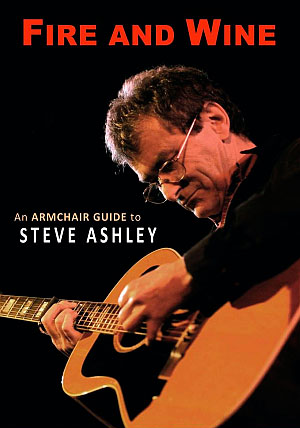 The prolific rock author, Dave Thompson's acclaimed biography traces the fifty-year musical journey of Steve Ashley's career. With contributions from many of his friends and associates – including Fairport Convention's Dave Pegg, Chris Leslie, Maartin Allcock and the late Bruce Rowland, plus Shirley Collins, Linda Thompson and Colin Irwin – Ashley's own recollections are both enlightening and at times, hilarious. The story includes his early days with the Albion Country Band, his American tour for Motown, his direct action and campaigning appearances for CND and his recording sessions among the key players of British folk-rock. Updated to include 2015's 'This Little Game' and his latest release 'Another Day', Fire and Wine includes archive photographs, a song catalogue and complete discography.
"He's one of the British folk scene's finest singer-songwriters." – Mike Harding
Available on Amazon in paperback and Kindle…